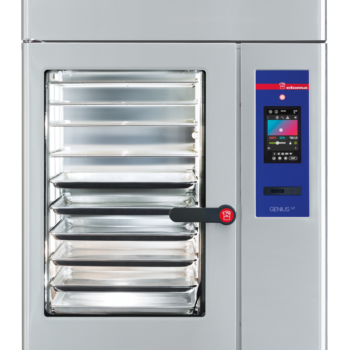 Multi-eco hoods GENIUSMT table top units
For a better indoor climate
Our multi-eco hood is available for all cooking and baking units. It condenses steam, improves the indoor climate and helps to protect kitchen and shop fittings. Its elegant design is captivating, and it guarantees perfect hygiene thanks to easy, time-saving cleaning.
Ideal for front cooking and shop interiors – ensures a better climate when combi steamers are used.
Ergonomic design, perfectly suited to the machine, with no protruding parts. The multi-eco hood condenses steam during the cooking process, so helping to maintain a pleasant environment while retaining that delicious smell of cooking or baking
The hood uses hardly any power and guarantees optimum functionality.
Over 85% efficiency, with minimal operating costs
The multi-eco hood is controlled on the basis of the cooking and baking processes
The multi-eco hood switches on and off automatically
The fan wheels operate primarily at the minimum level, i.e. with the lowest possible power consumption and reduced noise
Switches automatically to maximum power just before the end of the programme in order to capture any steam when the doors are opened
No water cooling, so no additional water or power connection is required
A special mix hood is integrated into the kit and fits perfectly between the units. The hood is controlled directly by the relevant machine thanks to the process-controlled, fully automatic system. For maximum performance.
Thanks to the unique condensation hood KH2 Mix MT, GENIUS MT and/or MULTIMAX mix stations don't need an extra condensation hood between the two combi-steamers, which saves you money.
---
These products could also be of interest: