You are an operator, consultant or dealer? Please log in and benefit from the advantages.
Info 24
Here you will find detailed information, instructions and data sheets about the latest Eloma combi-steamers, baking ovens and accessories in all model sizes at any time of day or night – you can also access the technical documentation of phased out units here. As we export to the whole world, we provide brochures and manuals in many different languages. The online ordering of the right spare part is also quick and easy with the help of the part finder and exploded views. And if you would like to pep up your combi steamer regularly and benefit from our continuous further developments, you will find the latest software versions and also the ProConnect data management software.
Register now and help yourself!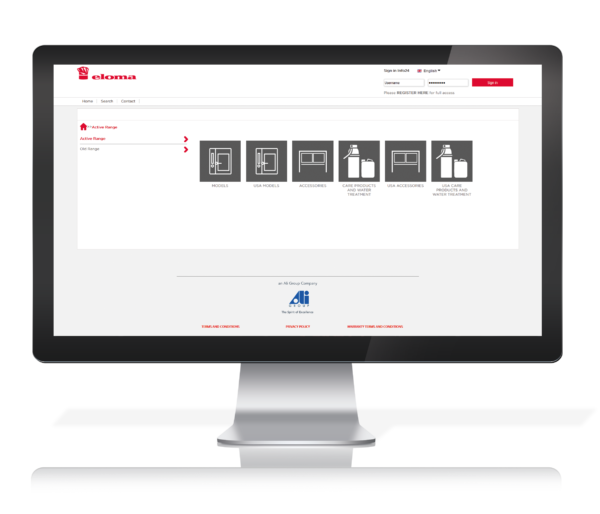 Our service partners
Our service partners are available for you world wide. They guarantee local fast and competent assistance should you experience technical problems.
Authorized Eloma Service Team Partners have been trained and certified according to Eloma high quality standards.
Eloma Service Partner are service partners trained by Eloma.
Here you will find an Eloma Service Partner located near you.
Extended warranty on your Eloma equipment.
WARRANTY EXTENSION
Eloma offers all end buyers an extra year warranty free of charge if the end buyer registers within three months after installation. Register either by using the online form below or by returning the postcard supplied with the machine to Eloma GmbH, Otto-Hahn Str. 10, 82216 Maisach, Germany.
Due to the current situation, all trainings, trade shows and events have been postponed until further notice.
Please sign up for our newsletter, we will communicate news dates as soon as they are fixed.
Recipes and preparation tips. Regular inspiration. For you to select from.
Eloma cookbook.
We have an answer to nearly every question.
Frequently Asked Questions
Frequently asked questions from our customers on cooking and baking.
Do you have a question which isn't answered here? If so, please get in touch with our application assistance – see contacts!